Las Vegas, USA – January 5, 2017 – At CES 2017, KYMCO introduced, to the United States, the first ready-to-market, IoV connected scooter. United States media, technology enthusiasts, and scooter riders, were shown KYMCO Noodoe: a new truly rider-centric lifestyle design and interface that accommodates the daily needs of modern riders by putting them in the very center of the riding experience.
Before CES 2017 started, KYMCO demonstrated the Noodoe system to key media personnel. KYMCO Chairman Allen Ko met individually with members of media from business, technology, and rider-centric outlets. Private 1:1 press conferences and demos of the Noodoe connected dashboard, by Mr. Allen Ko, were with media outlets that include: BBC, Engadget, Forbes, The Verge, Motor1.com, PowerSports Business, Motorcyclist Magazine, and Autoblog.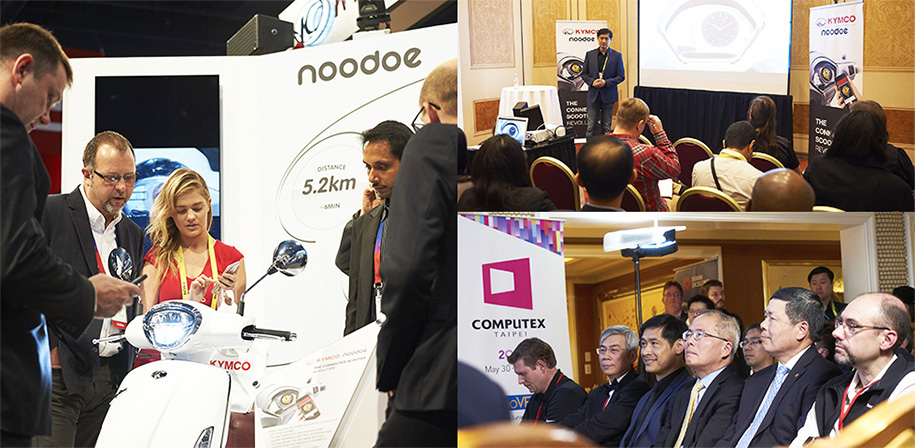 During the actual CES 2017 show, USA consumers tested the product, amidst other major players in the motor industry such as Toyota, showing enthusiasm for the personal, thoughtful, and connected features of KYMCO Noodoe. During the show, coverage quickly appeared in Forbes, RideApart (picked up by Yahoo Tech), Reuters and Autoevolution for a total of 169,507,109 impressions across all outlets. We can expect coverage from USA press to continue and we are happy to call KYMCO Noodoe's debut at CES a huge success.