KYMCO CV-L6
Meeting All of Your Needs; Perfectly Blending Convenience and Adventure
Just as the KYMCO brand has always conveyed uniqueness, pride, and a relentless pursuit, KYMCO is continually seeking the best solution for a personalized riding experience. KYMCO redefines the way to freedom with its answer: the KYMCO CV-L6. Starting from a design philosophy of freedom, toughness, and adventure, the CV-L6 is more than just a means of transportation; it's a gateway to endless excitement. Each ride on the KYMCO CV-L6 is not merely a journey but an adventure.
Combining the dual advantages of an ADV Scooter and a Maxi Scooter, the KYMCO CV-L6 offers limitless adventure potential. The CV-L6 caters to the needs of daily city commuting while also delivering endless enjoyment and adventure. Whether you prioritize everyday comfort, safety, and convenience, or you seek the joy of open roads, or yearn for thrilling off-road adventures, the KYMCO CV-L6 meets all your requirements. With its comfortable riding experience and outstanding performance, the CV-L6 allows you to feel excitement and unparalleled riding enjoyment anytime, anywhere, expanding your imagination and broadening your horizons.
In its design, the CV-L6 considers the differences in rider body types, featuring a more lightweight design and a lower seat height. The ample and expandable storage space allows you to effortlessly carry everything you need. The CV-L6 incorporates the comfort and convenience of a scooter with a motorcycle riding experience suitable for exploration and adventure.
The CV-L6 aims to broaden a rider's horizons, allowing them to freely explore both the city and nature. Whether you're commuting in the city or venturing into the wilderness, the CV-L6 meets all your needs. It seamlessly balances daily use, cruising, and adventure riding. Whether it's the convenience and efficiency of urban life, the comfort and leisure of road trips, or the desire for freedom in off-road adventures, the CV-L6 is your ideal choice.
KYMCO SKYTOWN
Explore Your Daily Journey
At KYMCO, we have always been committed to satisfying the needs and desires of our customers. With a focus on innovation and customer-centricity, KYMCO introduces the SKYTOWN, a compact fusion scooter designed to revolutionize urban commuting.
The highlight of the SKYTOWN lies in its groundbreaking engine technology. The new Green Power engine stands out from traditional models with its exceptional performance and innovative features. Equipped with several patented technologies, it offers improved efficiency, durability, and performance.
The high-angle torque camshaft ensures excellent acceleration and reduces fuel consumption, providing a smooth and efficient driving experience. Additionally, the high-efficiency fin-type cooling channels provide the engine with more horsepower and extend its lifespan, making it a reliable and cost-effective investment for riders.
The design of the SKYTOWN is tailored to the needs of urban commuters. Its short wheelbase and lightweight construction make it perfect for navigating through crowded cities and narrow alleyways. Despite its compact size, the scooter offers ample storage space inside the compartment, allowing riders to conveniently store a full-face helmet along with personal belongings. The SKYTOWN's minimalist and stylish appearance is complemented by its unique front and rear LED lights, which enhance its quality and recognition. The scooter achieves a perfect balance between aesthetics and safety. The high-visibility LCD instrument panel and convenient USB port cater to the lifestyle needs and desires of riders worldwide.
With the KYMCO SKYTOWN, commuting in busy cities feels like a carefree ride through the open sky. Its exceptional engine technology, compact design, and stylish aesthetics make it the ultimate commuting solution for urban riders. KYMCO continues to prioritize customer satisfaction and strives to exceed expectations with its innovative and reliable products.
KYMCO i-Tuber Series
I am Synonymous with Freedom
Amid the thriving landscape of E-commerce businesses, we have witnessed a growing demand for scooters tailored to riders who wish to effortlessly switch between personal and business endeavors. They ride freely, carry loads, and make their way through a variety of tasks. In response to this industry gap, KYMCO proudly introduces the "i-Tuber," a perfect solution that combines versatile delivery capabilities.
The i-Tuber's ergonomically and comfortable seat is of paramount importance for riders, enabling them to execute their tasks with ease. The innovative exposed frame design provides protection to essential components from unexpected impacts and supports multiple riding scenarios.
The LED lighting throughout the vehicle and the bright LCD display ensure clear visibility of the road ahead for the rider and makes the rider easily visible to pedestrians and other drivers, whether it's daytime, nighttime, or navigating city streets.
The 4,000Wh hub motor provides a top speed of 70km/h, and is coupled with two Ionex Batteries, offering an estimated range of 130km (WMTC).
The "i-Tuber Carry" is based on the characteristics above, but was designed by KYMCO to excel in cargo capacity for pure professionals, making it the ideal choice for B2B applications. A front storage rack and a spacious rear carrying rack are enough to satisfy the diverse operational needs of any BTB enterprise.
KYMCO's "i-Tuber Series" is a trustworthy partner for both freelancers and businesses in building exceptional B2B fleet services that deliver goods with precision and speed to enhance the efficiency of "last-mile delivery" logistics,working towards a more sustainable future for the logistics industry.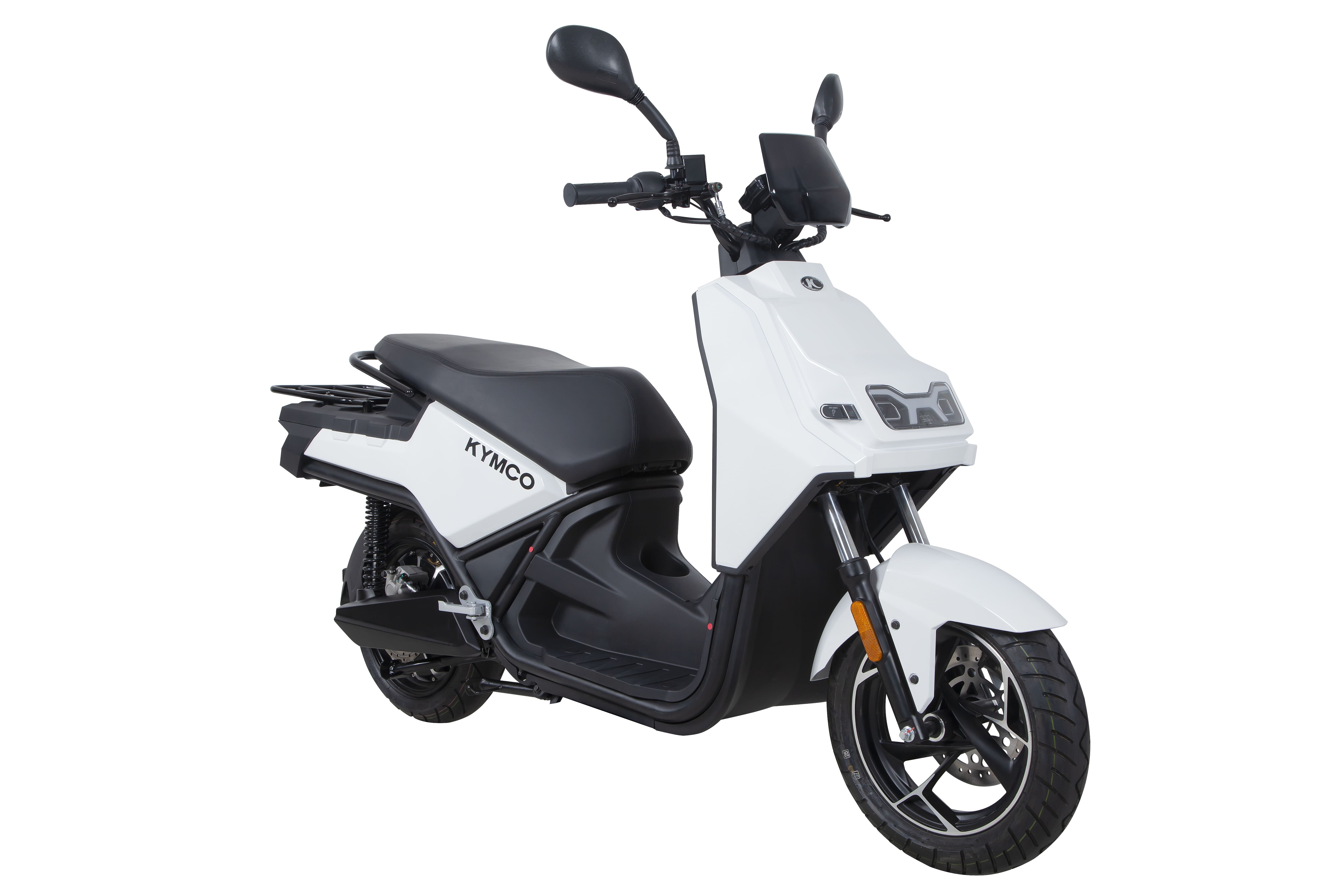 KYMCO Filly 50
The Perfect Entry-Level Retro 50cc Scooter
The Perfect Entry-Level Retro 50cc Scooter
In a world where urban mobility is paramount, the FILLY 50 is set to redefine the way we move. The charming FILLY 50 combines high efficiency with style for your short-distance commuting and travel needs.

1. Lightweight Design: Weighing in at just 104kg, the FILLY 50 is easy to maneuver and park, making it an ideal choice for crowded city streets.
2. Full LED Lighting: The FILLY 50 comes equipped with full LED lighting,ensuring visibility and safety, day or night, while also contributing to its stylish appearance.
3. Efficient 50cc Engine: The FILLY 50 strikes a perfect balance between power (2.1kw) and fuel efficiency, making it an excellent choice for those looking for a cost-effective and eco-friendly mode of transportation.

Whether you're a commuting student, a professional navigating through busy city streets, or a rider in search of a fun and stylish experience, the FILLY 50 caters to all your needs.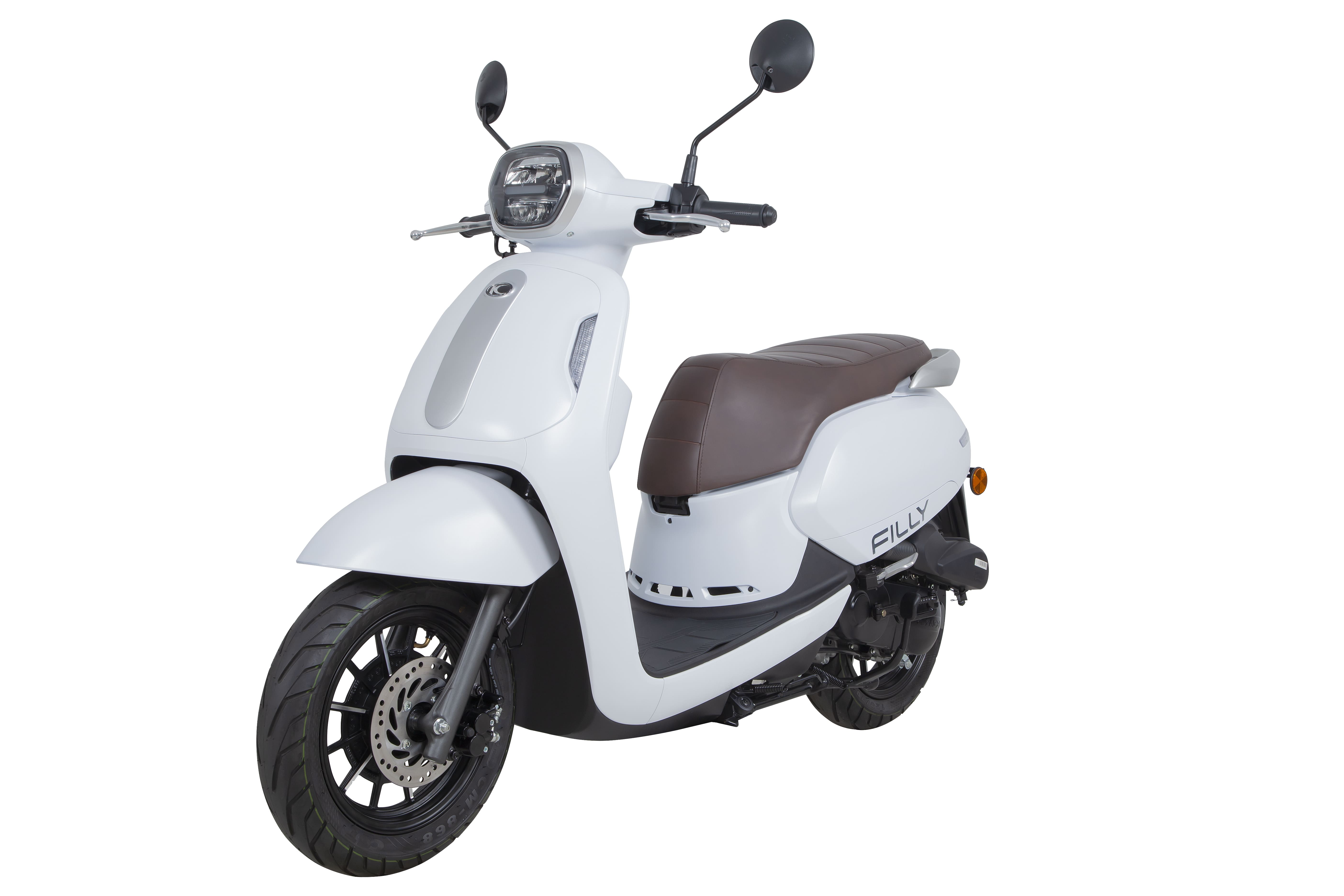 ABOUT KYMCO

KYMCO is a brand with a rich history spanning nearly 60 years in the powersport industry. They focus on innovation, quality, style and have established themselves as a leading manufacturer of scooters, motorcycles, and ATVs worldwide. Their state-of-the-art manufacturing facilities and use of the latest technologies ensure that every vehicle they produce is reliable and stylish.

KYMCO is committed to reducing the environmental footprint, promoting sustainability, supporting social causes, and giving back to the communities.Whether riders seek a sleek and sporty scooter or a rugged and durable ATV, KYMCO has something for everyone. KYMCO is a brand that embodies the best of what the powersport industry offers - innovation, quality, style, and a commitment to making the world a better place.
You can learn more about KYMCO at www.kymco.com